Blogger Corner
24 February – Friday
11:00 – 12:00 Éva Kisgyörgy: Meeting bears in Alaska
12:00 – 13:00 Ági Szilágyi: Travel tips and tricks – or how to plan your own trip
13:30 – 14:30 Tamás Kassay: Sustainable travel: is it possible? Tips, tricks, ideas
14:30 – 15:30 Anilla Till: Planet friendly travel – how to travel the world sustainably?
Saturday 25 February
11:00 – 12:00 Rita Harmincz: With Motorhome in Mexico
13:30 – 14:30 László Szécsi: My life in China – the adventures of a Hungarian vlogger in Asia
26 February – Sunday
12:30 – 13:30 Merci Patai: The art of slow travel – My 10 years of adventures in Italy
15:00 – 16:00 Orsi Szombat: Socotra, the Pearl of the Indian Ocean
---
Éva Kisgyörgy
I'm Éva Kisgyörgy, an economist in "civilian", but since I can remember, travel has been my passion. I love sharing my experiences with others and even more so when I'm inspiring others to start exploring this wonderful world – that's why I created my blog.
During the decades I spent at the multinational cpmpanys, I could only manage it from the regular annual leave, although I spent every minute of it traveling. At the end of 2011, my job was terminated and since then I have been a full-time traveler, travel blogger. I have visited 146 countries, but I am just as happy to travel here at home, regularly touring the country. I have been running my blog since 1996, for 27 (!) years now, I was probably one of the first in the world. In addition to blogging, my writings have appeared in many online and print magazines, most often I work for National Geographic magazine and the startlap.
Contact details of Éva Kisgyörgy:
Website: https://travellina.hu/
Facebook: https://www.facebook.com/travellina.hu
Instagram: https://www.instagram.com/travellina.hu/
Youtube: https://www.youtube.com/user/kisgyorgyeva
---
Ági Szilágyi
Hello! I'm an Ági and traveling is my biggest passion. I've always believed that experiences are worth living for, and I'm doing my best to do that: in addition to working full-time, I've been to 51 countries over the years and made a lot of memories from all over the world. It's the journey and the planning that puts a smile on my face even on the grayest weekdays.
I share my travels with others and try to give useful tips to those who are not yet experienced in traveling. I have been very active on various social media platforms for a few years, you can find me on Instagram, Facebook, Tiktok, and I also have a blog, of course. I owe a lot to blogging and social media: in the course of my collaborations, I have traveled to Jordan, Croatia, Berlin, Ethiopia, as well as participated in two cruises (in the Mediterranean and Middle East). I've had collaborations with accommodation, travel-related companies, and the airport.
Since last May, I have been self-employed, I am engaged in travel consulting and mainly help people who have never flown before and are completely unfamiliar with this world. It's a fantastic feeling for me to be able to contribute to getting more people to start traveling and collecting experiences.
In addition to all this, I also attend tourism technician training, after which I can even work as a professional tour operator. So I guess I can say that travel is my life. For me, it's more than just a hobby, I've spent countless hours planning trips, finding flights, booking accommodation – but that's what makes a gray everyday life meaningful.
Contact details of Ági Szilágyi:
Instagram: https://www.instagram.com/agi.travels/
Tiktok: https://www.tiktok.com/@agi.travels
Facebook: https://www.facebook.com/utazasakobon/
Website: https://utazasakobon.hu/
---
Tamás Kassay
Online communication ninja, travel blogger, lover of Asia and the spas, owner of the Spabook.net tourism portal, member of the Association of Tourism Developers and Consultants, invited speaker on tourism marketing at the professional event of the Hungarian University of Agriculture and Life Sciences (MATE) in Gödöllő and at the Károly Róbert campus in Gyöngyös, the Pannonian University in Veszprém and the Tourism Club of the Budapest Business School (BBS). He has worked on country marketing for Croatia, Jordan, Italy and Slovenia, as well as on the marketing of Zalakaros and Miskolc destinations, and has created numerous articles and posts about local experiences and attractions.
"My passion is the guest experience! As a consultant, I help service providers increase their guest satisfaction, and as a blogger, I build the reputation and visibility of their brand."
He has visited 48 countries, he is especially fond of the colors and smells of Asia, the hospitality of the East. As an adventurous backpacker he feels at home in a 10-bed hostel room, just as in a 5-star luxury hotel as a wellness blogger. His favorite places are Taiwan, Georgia and the Pesterzsébet spa, but for many years now, his stories on his blog have been enticing the public to travel every single day and encouraging professional followers to provide better service.
In 2023, he will talk about tourism sustainability, presented by the Travel Exhibition Blogger Corner. In his usual humorously engaging style, he will turn the world out of its corners and make all those who come to listen to it think deeply. The audience is guaranteed to be enriched with a lot of new knowledge and insights.
Tamás, alias Mr Spabook channels and contact details:
Facebook – Instagram – TikTok – LinkedIn – Twitter – Pinterest – Website
---
Anilla Till
Protecting the Earth's environment and getting to know it as comprehensively as possible is my profession and hobby. I am a sustainable communication expert by education, and since September 2021, I have been researching the rhetoric of planetary health in an academic setting as a PhD student.
Since 2018, I have been regularly reporting on my adventures on the planet, experiences in different cultures, sustainability tips and, of course, my favorite form of travel, long-distance hiking. I started my YouTube channel after my favorite Arctic experience, my trip to Svalbard.
Since then, I've talked over four summers about my biggest challenges, my tours across Spain, Hungary, the Sami area of Sweden and the Netherlands, my backpacking trips from America to Europe, and of course how we can do it all with a nature-focused, sustainably holistic approach.
Contact details of Anilla Till:
Website: https://tillanilla.com
Youtube: https://www.youtube.com/c/TillAnilla/
Instagram: https://www.instagram.com/anilla.till/
Facebook: https://www.facebook.com/anilla.till
---
Rita Harmincz
She has been running her travel blog under the name of the girl in the yellow dress for 8 years now. Her story became interesting to others when, leaving everything behind, she set out to travel to Southeast Asia on a one-way flight. Rita traveled alone and shared her experiences and knowledge with others. Over the years, she spent most of her time in Indonesia, about which she later wrote a book.
Her journey is still ongoing, only constantly transforming. Initially, she travelled alone, then with as a couple, now with a child as a family. As an individual entrepreneur, she writes and publishes books, and also works as a tour guide. As she says, travel is both her hobby and her job, her passion, her vocation, and writing is therapy for her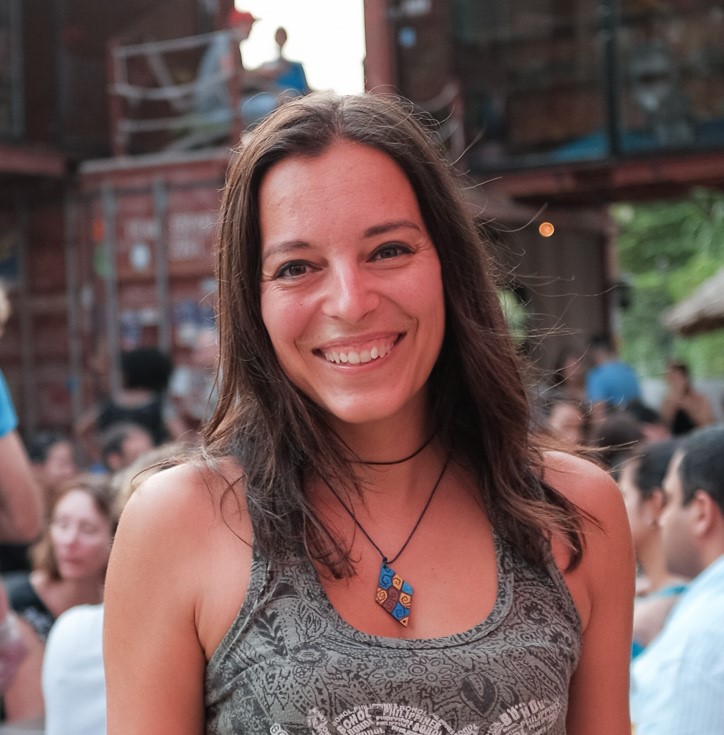 Rita Harmincz, Contact details of The Girl in the Yellow Dress:
Youtube – Facebook – Website
---
László Szécsi
The creator of the Youtube channel, Can I fit in the suitcase? László Szécsi – alias Teacher Lucky – has spent a long time on five continents in recent years. After volunteering in Turkey, he lived for a year and a half on a tiny tropical island in China, where he worked as an English teacher in a kindergarten. After that, he earned his living in Iceland for half a year, and then for another year and a half he traveled the world aboard an ocean-cruiser ship, reaching places such as Alaska, Bora Bora, South America and the Caribbean, among others. He regularly makes videos of his travels, which he shares on his Youtube channel, and in a few years he has become one of the largest domestic travel Youtube channels. With his videos, he sends the message that instead of counting countries, we should collect experiences and immerse ourselves as much as possible in the world of places we visit. During his presentation, the focus will be on Asia, especially the period spent in China, so he will tell about local working conditions, the astonishing habits of the Chinese people, interesting food, favorite places in Asia, and there will be no shortage of travel advice, among others.
Can I fit in the suitcase? Contact details:
Youtube: https://www.youtube.com/channel/UC5UaXuMc00zwxvjzCSw4KGw
Instagram: https://www.instagram.com/beferekaborondbe.hu/
Facebook: https://www.facebook.com/beferekaborondbe/
Website: http://beferekaborondbe.hu/
---
Merci Patai
The author of Me & Italy, Merci, loves the world, but her great love is fabulous Italy. It has been almost ten years since she first moved to Italy, since then she has lived in eight different parts of the country and visited more than 215 Italian cities.
On her blog, she writes about her weekdays full of adventures, her wanderings in the fabulous boot, and her low-budget trips. In her posts, she tries to present the fabulous Italy from as broad a perspective as possible. In addition to the emblematic and hidden treasures of the country, local habits, arts, special foods, language, and cultural differences also play an important role.
Contact details of Merci Patai:
Instagram: https://www.instagram.com/mercipatai/
Facebook: https://www.facebook.com/mercinitaly
Website: https://www.mercinitaly.com
---
Orsi Szombati
I'm Orsi Szombati, a travel blogger, the founder of the Traveladdict.hu site. I loved to travel in my life, but a cancer completely turned my life upside down. I realized that I wanted to collect experiences instead of objects, and that I wanted to see the whole world, to explore its invisible parts as well. Because when I'm traveling, that's when I feel most like I'm alive, and that's what I've been given a second chance at life.
I've been to 57 countries and hundreds of cities around the world, but the focus is on exploring and living the world, not ticking off the sights. In addition to traveling, diving is also an integral part of my life, and if I can, I will combine the two. In recent years, I've been to the magical jungles and outskirts of Borneo and Indonesia. I dived in Norway with killer whales in the icy water, while in Sudan I encountered hammerhead sharks. As a nature walker, I not only hiked among the 3000-meter mountains of the Caucasus, but I was also the first woman to walk the 2600-kilometer line of the entire Blue Circle in Hungary in a year.
Contact details of Orsi Szombati:
Website: https://traveladdict.hu
Instagram: instagram.com/traveladdict.hu
Facebook: facebook.com/traveladdict.hu
TikTok: tiktok.com/@traveladdict.hu
---